Data
GDPR - TCF v2.0 - may kill AdSense in Europe on November 13
Google this year announced the integration of their ad programs (AdMob, AdSense, Ad Manager) with TCF v2.0. TCF v2.0 is the second version of IAB Europe's Transparency and Consent Framework, a framework from the industry to comply with GDPR.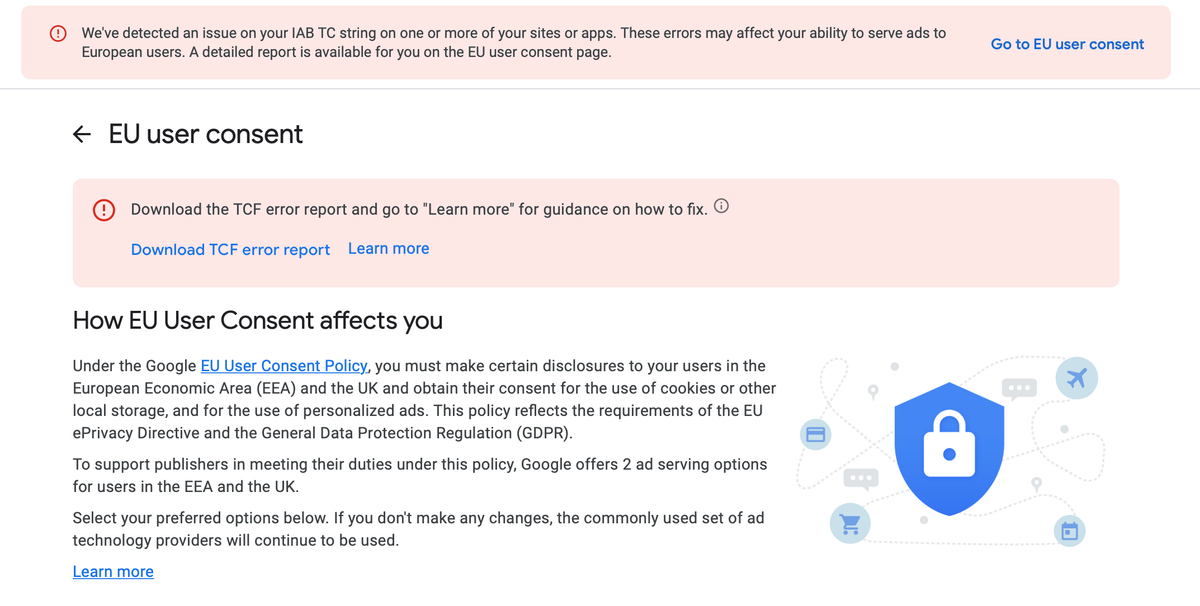 Google this year announced the integration of their ad programs (AdMob, AdSense, Ad Manager) with TCF v2.0. TCF v2.0 is the second version of IAB Europe's Transparency and Consent Framework, a framework from the industry to comply with GDPR.
On the TCF there are 4 parties:
Users (The ones that give consent for vendors and purposes)
Publishers (The ones asking for consent)
Vendors (Reading the consent, and comply with it. Vendors include ad tech, consent management platforms, data vendors, exchanges, SSPs, adservers, etc)
Advertisers (In TCF v2.0, advertisers need to be careful with the vendors they choose, as small vendors will have limited reach, a strong barrier for new players in the ad industry in Europe)
Why TCF v2.0 may kill AdSense and defund the niche web in Europe?
AdSense is an ad program from Google, created in 2003, funding websites with ads from big a small advertisers. AdSense's ad euros fund the creation of content like blogs and forums, enabling publishers to pay servers, and dedicate time for these projects. Google takes a cut of 32%.
AdMob is the same program as AdSense but for apps. Google has 3 ad programs: AdSense for web, AdMob for apps, and Ad Manager for big publishers.
In July, Google announced the conditions it will join TCF v2.0. Google says publishers are responsible to ask consent to users, without providing a Consent Manager for AdSense publishers. For Ad Manager, and AdMob publishers, Google made available a CMP called Funding Choices. For AdSense, Google just told publishers they need to ask consent, or ads will not be displayed in Europe.
Google's Consent Management Platform (CMP) Funding Choices was created in 2017, initially a program to help news publishers with ad blocking. Funding Choices was created to ask users with ad blocking to disable the ad blocking or to pay for the news. With GDPR, Funding Choices evolved into a CMP, a Consent Management Platform.
Google has the technology to ask consent, but decided to make available this technology only for Ad Manager, and AdMob publishers. Publishers with access to Ad Manager, and AdMob can have free access to Funding Choices, by clicking on Admin > EU user consent > Manage Consent with Funding Choices.
Google says that Ad Manager publishers "can use Google's Funding Choices consent management tool to manage privacy standards and customise their message for your site or app. Alternatively, publishers can use their preferred consent management solution."
Google only made available their CMP for big or app publishers
For small web publishers, using AdSense, Google told publishers to find their own consent manager, or to use an IAB TCF v2.0 registered CMP.
There are free CMPs, like LiveRamp, however not all publishers may know how to install those solutions, and free CMPs normally do not cover AMP content and the AdSense search program.
LiveRamp's Consent Manager, for example, is free only for sites and/or apps with under 1,000,000 cumulative daily active users per month. Google's Consent Manager (Funding Choices) is always for free.
Publishers already started to ask what are the good (free?) CMPs for TCF v2.
How small websites will stop to be available for the ad euros?
Google this month started to show errors in AdSense dashboard, telling publishers they need to ask consent for users browsing from EEA countries: Austria, Belgium, Bulgaria, Croatia, Republic of Cyprus, Czech Republic, Denmark, Estonia, Finland, France, Germany, Greece, Hungary, Ireland, Italy, Latvia, Lithuania, Luxembourg, Malta, Netherlands, Poland, Portugal, Romania, Slovakia, Slovenia, Spain, Sweden, plus Switzerland, United Kingdom, Norway, Iceland, and Liechtenstein.
As of yesterday, 15th of August, all publishers, using the 3 Google ad programs (AdMob, AdSense, Ad Manager), need to ask consent; and then pass that information to Google, before an ad is displayed.
Soft cut-off to happen on September 14
If consent is not asked, on September 14 2020, (30 days after 15th August), Google will only show non-personalized ads to users. This means ads that only use Google as a vendor, and ads limited on targeting - advertisers can't use first party audiences on non-personalized ads. This means lower CPMs for publishers, so less revenue.
This will affect all DSPs that are not Google, as these DSPs will stop seeing this inventory on the bid requests.
Hard cut-off to happen on November 13
After 90 days, on November 13 2020, there is the cut-off. Google will not serve any ads where the consent as a vendor is not passed by the publisher.
All DSPs are affected here, including DV360, Google's DSP (Demand Side Platform). This is the 90-day grace period Google is giving publishers.
Less ad placements available in Europe
Publishers who do not have much traffic from Europe can decide on not implementing any consent manager. No ads will then be displayed to EEA users. This means no monetization in Europe, and less ad placements available for advertisers in Europe.
The location of the publishers do not matter for the GDPR. What matters is the location of the users that browse the websites or apps.
The lack of ad placements in the web may cause a redirection of the digital ad euros from advertisers into platforms like YouTube, Google Search, Facebook, TikTok, Pinterest, etc. Or to big publishers, and direct deals where tracking (control) is not used.
Small publishers seem to be the main losers of TCF v2.0, and maybe the web in general.
On July, 20, Matthew Prince, CEO of Cloudflare, wrote on Twitter that he wants to talk with someone planning to go head-to-head with Google, as the free and open web may depend on them.