Data
What is Consent Mode?
When consent is not granted, no new cookies pertaining to advertising may be written.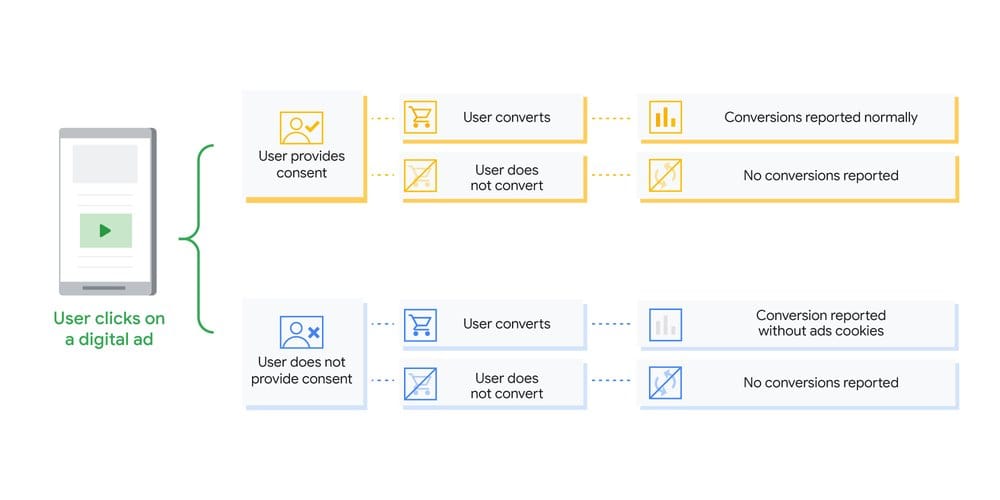 Consent Mode is a new beta enabling advertisers to tag their websites for European users that do not give their consent. The program was designed for GDPR, and supports tags from Google Ads, Floodlights from Campaign Manager and DV360, and tags from Google Analytics.
Google's tags dynamically adapt, only utilizing cookies for the specified purposes when consent has been given by the user.
Google says the beta, launched this month, is open for a limited number advertisers that operate in Europe.
"If a user does not consent, the relevant Google tags will adjust accordingly and not use ads cookies, instead measuring conversions at a more aggregate level," wrote Scott Herman, Product Manager at Google Tag Manager.
According to Google, when consent is not granted, no new cookies pertaining to advertising may be written, no existing first-party advertising cookies may be read, third-party cookies previously set on google.com and doubleclick.net may be sent in request headers (but limited to use for spam and fraud purposes), Google Analytics will not read or write Google Ads cookies, and Google signals features will not accumulate data for this traffic. IP addresses are used to derive IP country, but are never logged by the Google Ads and Floodlight systems and are immediately deleted upon collection. The full page URL is collected, including ad-click information in URL parameters (e.g., GCLID / DCLID).
Google clarifies that in all cases it will collect Timestamp, User Agent, and Referrer. Cookieless pings will be sent to Google Analytics for basic measurement and modeling purposes.
Google Consent Mode is compatible with the following Consent Management Platforms: Cookiebot, iubenda, OneTrust, Osano, and Sourcepoint.