Google, The Trade Desk, Adobe, Amobee, MediaMath, and Adform named leaders in Ad Tech
Beeswax, Centro, Mediaocean, and Zeta Global were included this year on Gartner's evaluation.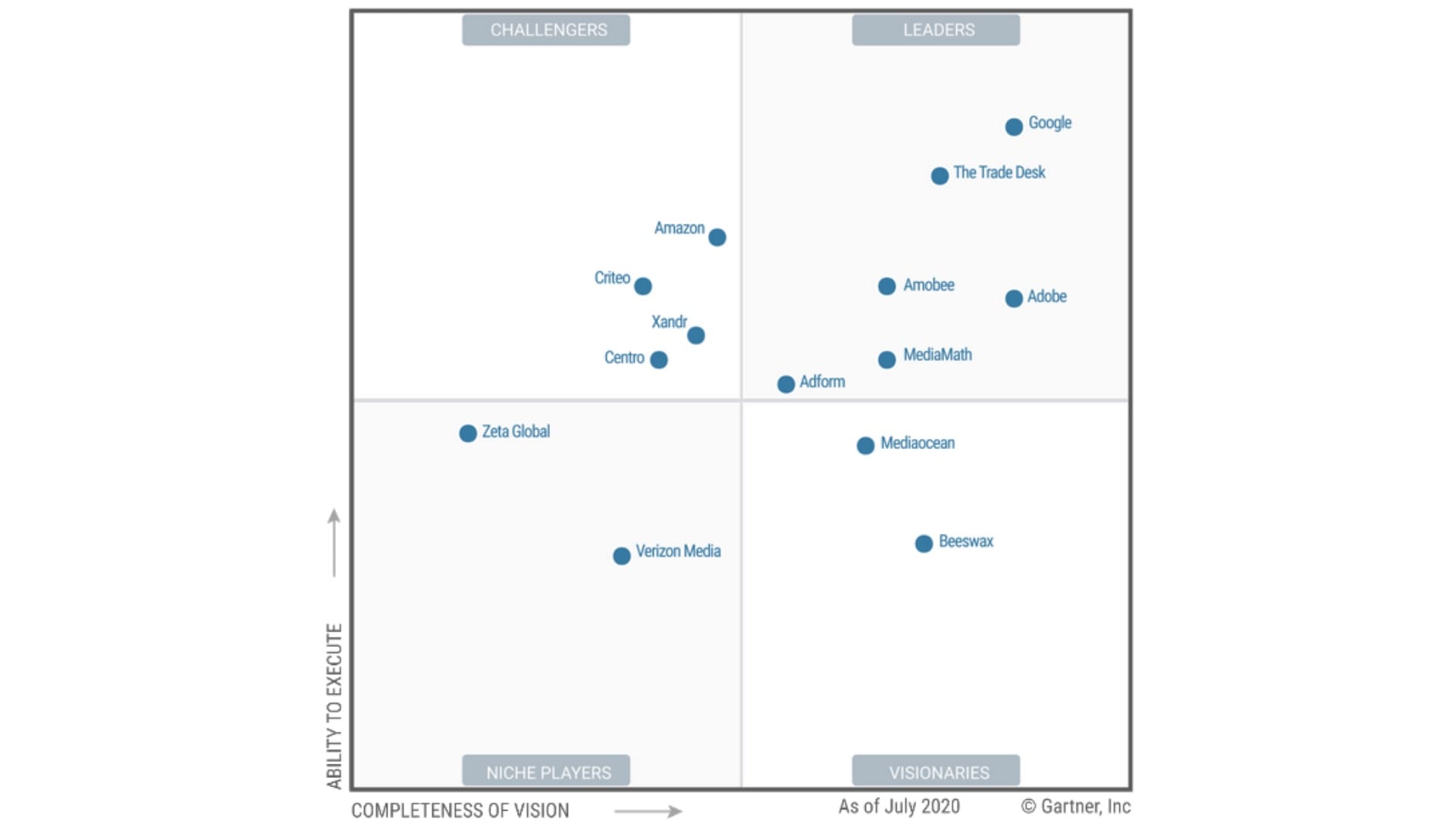 Gartner last month released the Magic Quadrant for Ad Tech 2020. Beeswax, Centro, Mediaocean, and Zeta Global were included this year on Gartner's evaluation. See here the results for 2019.
Gartner named Google, The Trade Desk, Adobe, Amobee, MediaMath, and Adform as leaders in Ad Tech.
The challengers in Ad Tech are Amazon, Criteo, Xandr, and Centro.
The visionaries are Beeswax and Mediaocean. The niche players are Verizon Media and Zeta Global.
According to Gartner, there are two types of players in Ad Tech, the ones participating at the same time in the sell-side (publisher) and buy-side (advertiser), and the ones active only on the buy-side. Gartner points out that access to inventory is one of the differentiation points in Ad Tech. Another differentiation point is the convergence across multiple channels, including display, video, over-the-top/connected TV (OTT/CTV), mobile, social, and search.
The strengths
Adform: integrated advertising platform with ad server, demand-side platform (DSP), and data management platform (DMP).
Adobe: Adobe includes paid search as a channel. The integration with Adobe's Experience Platform enables a consolidated aproach for audience activation and measurement.
Amazon: Advertisers can leverage Amazon's Audience Builder to draw on data including product views, purchases, keyword searches and Prime Video views to target on-site and off-site inventory via the Amazon DSP.
Amobee: Amobee leverages Nielsen's Gracenote's CTV automatic content recognition (ACR) network and other sources to form a hybrid identity graph of panel- and people-based data.
Beeswax: Beeswax offers clients access to all auction logs, and customizations across many aspects of data processing and functionality.
Centro: Gartner says Centro's Basis platform excels at coordinating and tracking campaign activity across direct, programmatic, search, and social media.
Criteo: It is one of the few independent providers willing to base compensation on its ability to deliver business results.
Google: Display & Video 360 supplies exclusive access to aggregate data in Google's massive dataset for audience profile analysis and targeting.
MediaMath: Focus on a neutral approach to sourcing quality programmatic inventory.
Mediaocean: Solid implementation, training, and support, which also boosted scores for market responsiveness/record.
The Trade Desk: The Trade Desk's partnerships provide access to unique inventory, such as Amazon Publisher Services, TikTok (in APAC), and Nextdoor.
Verizon Media: Verizon Media leverages a broad spectrum of data, with access to over 1 billion consumers globally.
Xandr: Via AT&T's proprietary first-party and partner datasets, Xandr's identity graph provides a unified view of households and associated devices across 170 million customers.
Zeta Global: Zeta Global continues to acquire companies, such as Sizmek's DSP and DCO solutions, that have solid pedigrees in development.
The weaknesses
Adform: Adform is still in the process of rolling out its integrated advertising platform and updated UX to all users.
Adobe: Adobe's cost can be a barrier for small and midsize businesses.
Amazon: Advertisers can only reach Amazon audiences and use Amazon measurement via Amazon DSP campaigns.
Amobee: Some users note control over certain bidder parameters such as pacing is less flexible than in other DSPs.
Beeswax: Beeswax is geared at supporting sophisticated do-it-yourself (DIY) advertising operators. It has a relatively small staff of fewer than 100 employees in focused geographies.
Centro: Centro hasn't invested as heavily as its competitors in identity management and audience data sourcing, management, and curation.
Criteo: Criteo's dependence on tracking cookies (both third- and first-party) presents a vulnerability for this business as privacy-based restrictions mount.
Google: To work directly with Google, users must qualify based on overall media volume, ability to self-serve and maturity level.
MediaMath: In mid-2020 several trade press reports speculated on the hiring of a financial advisor.
Mediaocean: Prisma lags in the look and feel of its interface, which was reflected in relatively low scores for customer experience.
The Trade Desk: Discussions with users of Gartner's client inquiry service, together with evidence from Gartner Peer Insights, consistently reveal concerns about price.
Verizon Media: Verizon Media's ad tech strategy has gone through several substantial changes of direction over recent years. Questions about the level and nature of Verizon's long-term commitment to advertising technology.
Xandr: Xandr serves both buy-side advertisers and sell-side publishers with complementary products, which can raise concerns about whether buyers are getting an undistorted view of the marketplace.
Zeta Global: Zeta Global reports 91% of its clients are in North America.