Display
Innovid, Jivox, Clinch, and Flashtalking named leaders of Creative Advertising Technologies
Forrester today released the score for the Creative Advertising Technologies companies in the Q4 2020.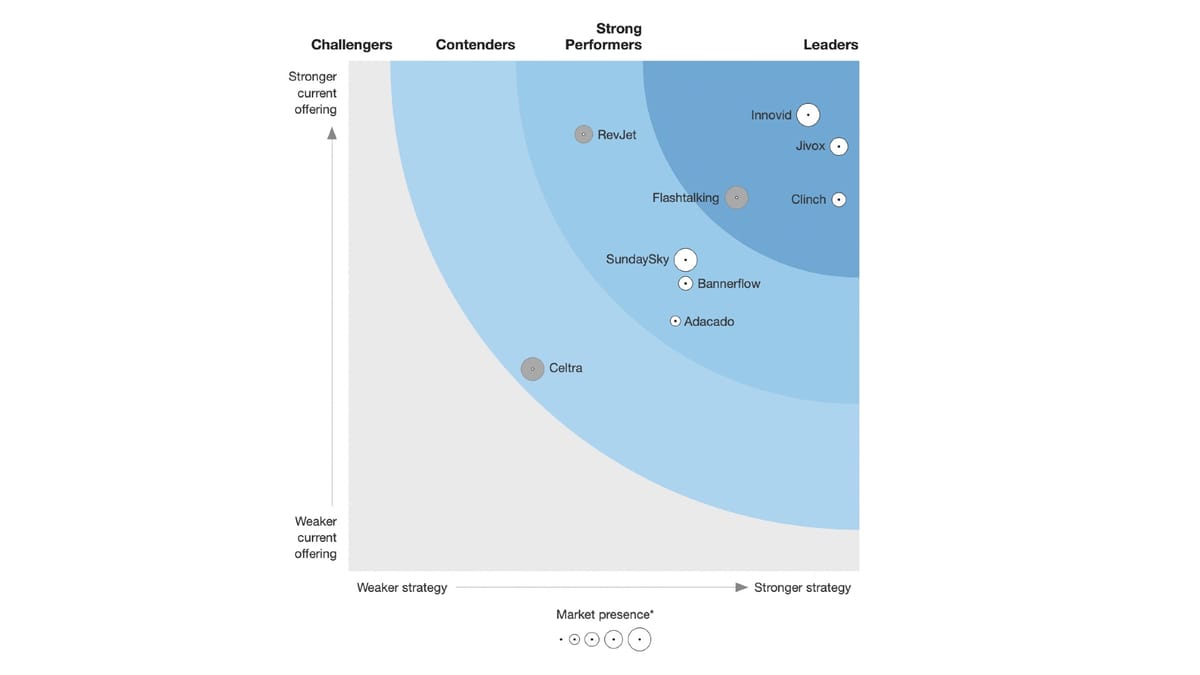 Forrester today published The Forrester Wave™: Creative Advertising Technologies, Q4 2020 where it scores and evaluates creative advertising technology (ad tech) providers.
The leaders
Innovid, Jivox, Clinch, and Flashtalking were named leaders.
The performers
RevJet, SundaySky, Bannerflow, Adacado were named strong performers.
The contenders
Celtra was named contender.
Central, RevJet, and Flashtalking decided to not participate in the evaluation.
According to the Forrester report, Jivox has the best offering on Formats, and Ad assembly, and decisioning. Clinch has the best offering on Ad building and assembly. Both Innovid and Flashtalking has the best offering in Ad serving.
Innovid and RevJet beat the competition on reporting and insights. Bannerflow, Celtra, and RevJet have the best Workflow and collaboration tools.
Forrester names Clinch, Flashtalking, Innovid, and Jivox, with the best Identityoffering.
"As former creative and media agency executives, we saw that marketers require the flexibility to personalize creative across platforms and formats. We believe being recognized by Forrester as a leader validates our technology and acknowledges the great results we have achieved on behalf of our clients around the world. The future of media advertising is focused on personalized video, and Clinch's platform can bring this to brands today," said Oz Etzioni, CEO of Clinch.
"We listen closely to customers and have successfully stayed ahead of their growth trajectory: from omnichannel personalization for the delivery of relevant messaging across paid and owned channels, modular creative approach for saving production costs, to personalized eCommerce marketing," said Diaz Nesamoney, Founder and CEO of Jivox. "This year, we introduced Kairos, a newly patented purchase prediction technology solution built specifically for eCommerce marketing. Kairos caters to the specific needs of our customers as they transition to the digital-first era due to the COVID-19 pandemic. As Forrester keenly points out, Jivox is investing in eCommerce innovations. These include prediction algorithms, platform integrations, and emerging ad formats."
In the report, Forrester advises advertisers to look for solutions that provide omnichannel ad support, including over-the-top/connected Tv (OTT/CTV) formats and DOOH, provide support for a cookieless future, and power more than paid media experiences, like onsite, in-app, and email.