Spotify ad revenue rose 29% in 2020
in 2020, Spotify recorded 281 million euros in ad revenue.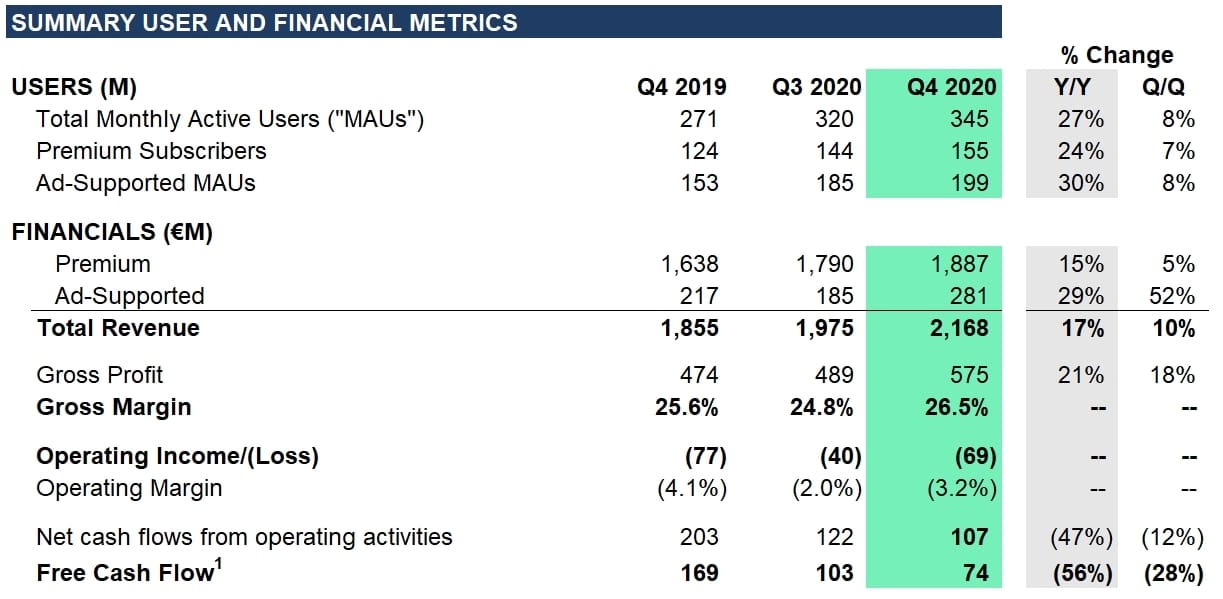 Spotify this month reported a growth of 29% in advertising revenue last year. Spotify ended up the year with 199 million ad-supported users and 155 million premium users.
The growth of ad-supported users (30%) was bigger than the premium subscribers (24%), but revenue associated with premium users was 1887 million euros vs. the revenue of advertising: in 2020, Spotify recorded 281 million euros in ad revenue.
In the announcement of the financial results for fourth-quarter 2020, Spotify highlighted the launch of Spotify Premium Mini in India and Indonesia, which gives users daily and weekly access to a subset of their favorite Premium features for a lower price. In Q4, Spotify also announced partnership deals with Grab (Southeast Asia), Flipkart (India), Tink (Germany), and Euronics (Europe), and on February 1, Spotify was launched in South Korea.
Spotify says ad-supported revenue of €281 million outperformed the forecast. According to Spotify, the strength in Ad-Supported revenue was led by our Podcast, Direct, and Ad Studio channels, with Podcast and Ad Studio both growing over 100% on a Y/Y basis.
Spotify reports that Programmatic and Direct channels increased 12% and 7% Y/Y, respectively, due to a significant increase in impressions sold.