Search News
Google reveals the winners for the search preference menu for Android devices
info.com and PrivacyWall are the biggest winners. info.com will appear as a choice in all European countries. The search preference menu will appear on all Android devices in Europe.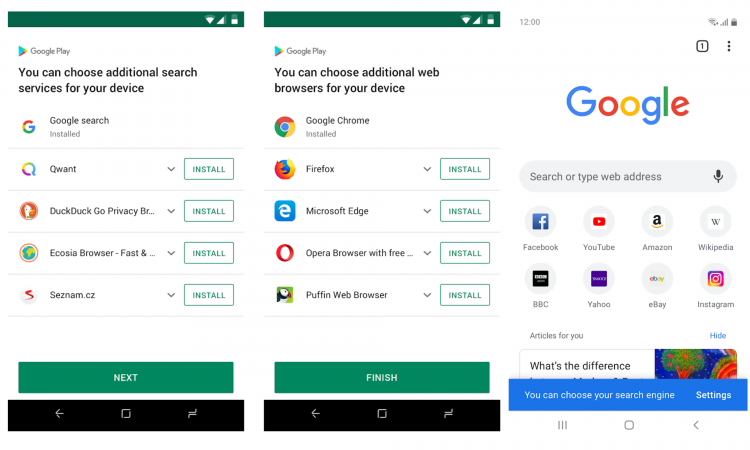 Google this week announced the results for the auction for Google's search preference menu for Android devices. For this auction, search engines could bid to appear as a choice as the default search provider in Android.
The European Commission, in July 2018, forced Google to implement a screen where users can choose the default search engine. Google responded with an auction for the multiple search engines. Google has over 95% of the search market share in Europe.
According to Google, the choice screen will always show a maximum of 4 providers, including Google. The auction winners, and Google, will be ordered randomly in the choice screen on a per device basis. In the event of a tie, Google will allocate the slots randomly among the tied bidders on a per device basis.
While info.com will show in all European countries, Microsoft's Bing will show only in 13 countries, mainly the big countries, or located in Central Europe/Nordics. PrivacyWall is appearing in over 20 countries, including Germany, France, Italy, and the UK.
The biggest winner of the auction, info.com, uses search ads from Google to monetize the search results. DuckDuckGo is one of the biggest losers, with only 4 countries. Ecosia decided to not participate.
Austria: Bing, info.com, PrivacyWall
Belgium: Bing, info.com, PrivacyWall
Bulgaria: DuckDuckGo, GMX, info.com, PrivacyWall, Yandex
Croatia: DuckDuckGo, GMX, info.com
Czech Republic: info.com, PrivacyWall, Seznam.cz
Denmark: Bing, info.com, PrivacyWall
Estonia: GMX, info.com, Yandex
Finland: Bing, info.com, PrivacyWall
France: Bing, info.com, PrivacyWall
Germany: Bing, info.com, PrivacyWall
Greece: GMX, info.com, PrivacyWall, Yandex
Hungary: GMX, info.com, PrivacyWall, Yandex
Iceland: DuckDuckGo, GMX, info.com
Ireland: Bing, info.com, PrivacyWall
Italy: Bing, info.com, PrivacyWall
Latvia: info.com, PrivacyWall, Yandex
Liechtenstein: DuckDuckGo, GMX, info.com
Lithuania: GMX, info.com, PrivacyWall
Luxembourg: GMX, info.com, Qwant
Malta: GMX, info.com, PrivacyWall
Netherlands: Bing, info.com, PrivacyWall
Norway: Bing, info.com, PrivacyWall
Poland: GMX, info.com, PrivacyWall
Portugal: GMX, info.com, Yandex
Republic of Cyprus: GMX, info.com, Yandex
Romania: GMX, info.com, PrivacyWall, Yandex
Slovakia: GMX, info.com, Seznam.cz
Slovenia: Ecosia, GMX, info.com
Spain: Bing, info.com, PrivacyWall
Sweden: Bing, info.com, PrivacyWall
United Kingdom: Bing, info.com, PrivacyWall